Registration for this event has passed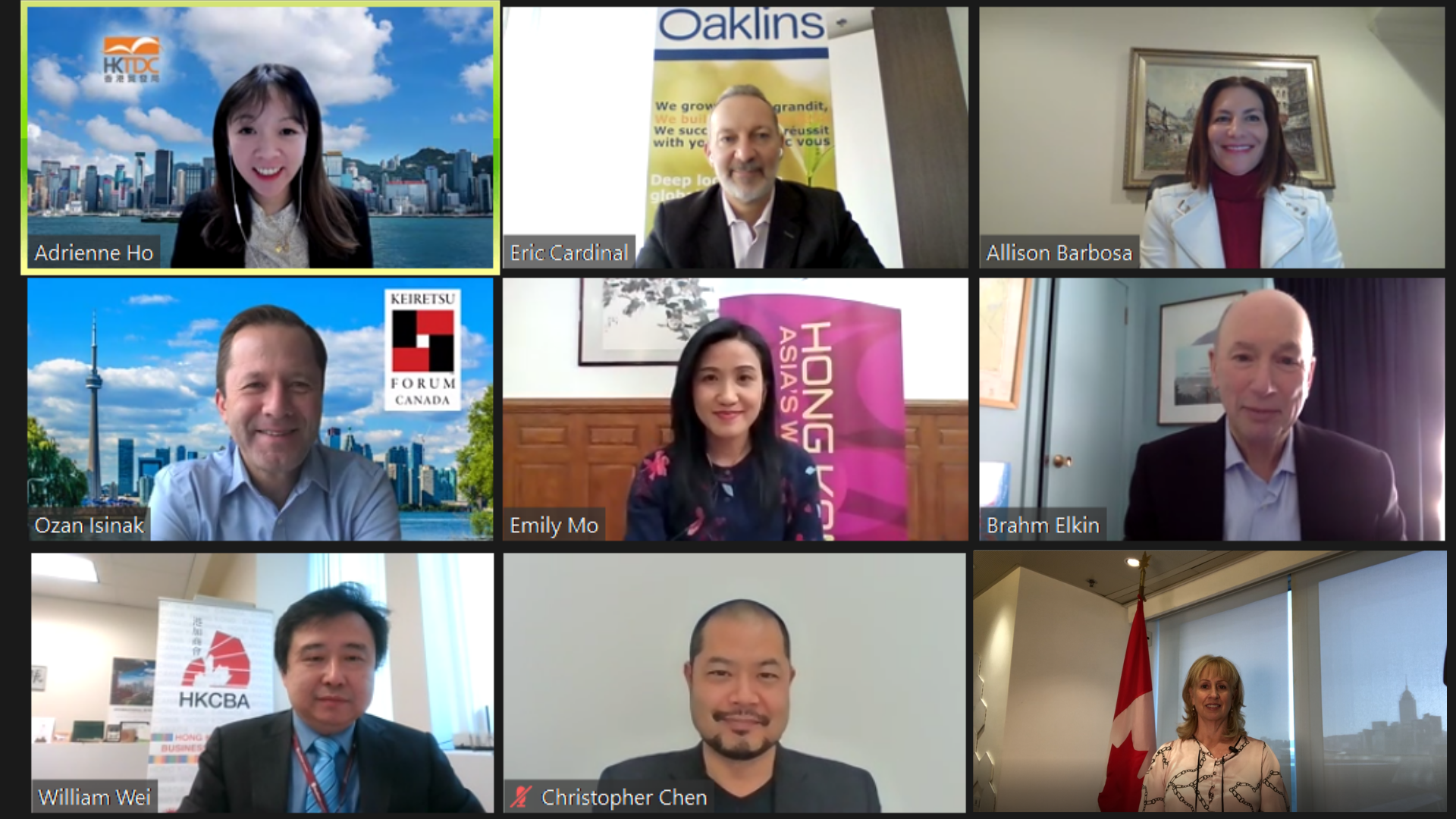 Thank you for joining our speakers and panellists at the webinar where they discussed key questions including:
How will the finance and investment landscape change under the rapid technological developments?

How is the Blockchain technology transforming the finance industry and what are its implications in the new financial world?

Are SMEs adopting the Blockchain technologies well? Can they afford to adopt such technologies? And can they afford not to adopt such technologies?

What are the innovations being seen in the payments industry?
Speakers also shared with the audience the rich financial services opportunities in Hong Kong, its thriving Fintech ecosystems, and the upcoming windows of opportunity via the Hong Kong platform, including the Canadian Virtual Mission to the AFF 2022.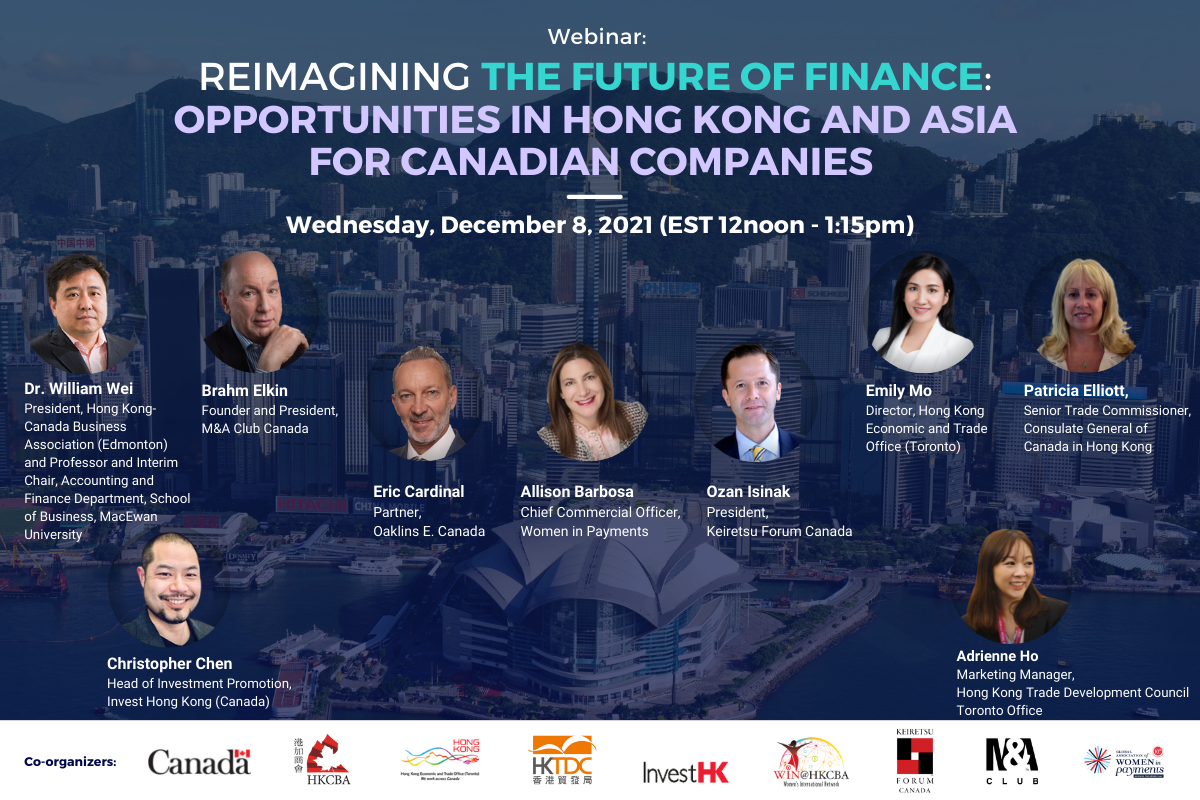 Given its robust infrastructure support, internationally aligned regulatory regimes, well‑established and fair legal system, a large pool of financial talents and its familiarity with international investment practices, Hong Kong is considered as a two-way global investment and business hub, as well as international companies' ideal springboard to the ASEAN (Association of Southeast Asian Nations) and Guangdong-Hong Kong Macao Greater Bay Area markets.
As we gradually reel from the impact of COVID-19, in the webinar, speakers will examine some of the common challenges and observations, share insights and suggestions navigating the next normal, and how Canadian businesses can tap the vast investment opportunities in Asia via the Hong Kong platform.
(Registration is complimentary but reservation is required.)
Programme Outline
Webinar Chair's Welcome and Introduction:
Dr. William Wei, President,
HKCBA Edmonton Section
and Professor and Interim Chair, Accounting and Finance Department, School of Business, MacEwan University
Emily Mo, Director,
Hong Kong Economic and Trade Office (Toronto)
[Video Greetings]
Patricia Elliott, Senior Trade Commissioner,
Consulate General of Canada in Hong Kong
Brahm Elkin, Founder and President,
M&A Club Canada
Brief remarks by Panelists followed by Q&A / open discussions
Allison Barbosa, Chief Commercial Officer, Women in Payments
Eric Cardinal, Partner – Investment Banking, Oaklins E. Canada
Ozan Isinak, President, Keiretsu Forum Canada
Windows of Opportunity for Canadian Companies:
Christopher Chen, Head of Investment Promotion, Invest Hong Kong (Canada)
Adrienne Ho, Marketing Manager, Hong Kong Trade Development Council Toronto Office
Dr. William Wei, Webinar Chair
Speaker Biographies
Dr. William Wei

President, HKCBA Edmonton Section
and Professor and Interim Chair, Accounting and Finance Department, School of Business, MacEwan University

https://www.macewan.ca/

Dr. William X. Wei has provided major service as research institute director, department chair and associate dean. As associate dean (2015-20), he played an instrumental role in MacEwan's EPAS accreditation, establishment of international partnership, and development and implementation of the first research strategy that brought about increased research output. In 2020-21, he was involved in a SSHRC-funded research project, entitled the GLOBE project, at Simon Fraser University.

Professor Wei has over 150 peer-reviewed publications in research areas, including emerging markets and multinationals. He has also published 22 Ivey business cases and teaching notes with a total sale of 40,000 copies. He is associate editor of two Emerald journals: Emerging Markets Case Studies and Chinese Management Studies. He was recognized as a distinguished scholar by the Academy for Global Business Advancement in 2012 and received the president's service award from the Association of African Business and Development in 2021.

Emily Mo

Director, Hong Kong Economic and Trade Office (Toronto)

https://www.hketotoronto.gov.hk/

Emily joined the Government of the Hong Kong Special Administrative Region of the People's Republic of China in 2001 as a member of the Administrative Officer Grade. In December 2018, she took up the Director post in the Hong Kong Economic and Trade Office in Toronto, the mandate of which is to foster closer economic trade ties between Canada and Hong Kong, and also promote bilateral cultural relations and people-to- people ties. Before that she had worked in different offices, including the Home Affairs Department, the then Environment, Transport and Works Bureau, the Security Bureau, the University Grants Committee Secretariat and the Tourism Commission of the Commerce and Economic Development Bureau. Before coming to Toronto, Emily served as the Deputy Head of the Human Resources Planning and Poverty Co-ordination Unit under the Chief Secretary for Administration's Private Office to support the Chief Secretary for Administration for monitoring the implementation progress of policy initiatives on human resources planning and poverty alleviation in Hong Kong. Emily received her Bachelor of Arts degree from the University of Hong Kong.

Patricia Elliott

Senior Trade Commissioner, Consulate General of Canada in Hong Kong

https://www.canadainternational.gc.ca/hong_kong/

Patricia assumed the position of Consul and Senior Trade Commissioner at the Consulate General of Canada in Hong Kong in September 2019. Patricia is responsible for the Trade and Investment Team for a territory that covers Hong Kong and Macao.

Prior to her arrival, Patricia had a similar position at the Canadian Consulate General in Los Angeles for four years, responsible for a territory that included Southern California, Arizona and Nevada. Patricia has also served as the Regional Director and Senior Trade Commissioner for the Prairies (Alberta, Saskatchewan and Manitoba) and the Northwest Territories and responsible for the delivery of the Government of Canada's international trade agenda. In addition to Patricia's role as Deputy Director for the Vancouver Regional Office (Pacific Region), she was the lead for the Global Affairs Canada's Global Business Leaders Initiative that took place during the 2010 Olympic Games in Vancouver, British Columbia.

With a background in strategic planning, managing portfolio partners and a focus on client delivery, Patricia is fluently bilingual in English and French. Patricia graduated from Université Laval with a focus on Public Communications. She has worked with numerous departments in the Canadian Federal Government and has received five Deputy Minister's Awards during her career.

Patricia is an avid reader of historical fiction, enjoys yoga, skiing and is consistently planning her next travel adventure. She is planning to continue her attempts to master paddle boarding in the waters of Hong Kong, a technique she initiated while living in Southern California.

Brahm Elkin

Founder and President, M&A Club Canada

https://www.maclub.ca/

Brahm is a serial entrepreneur and management executive, currently active in mergers, acquisitions and financing. Brahm has a B Comm. from Concordia University. He serves on several boards.

He founded and developed the M&A Club Canada in 2009 into a Canada wide organization, comprised of 19 Clubs and 1000 members. Established 15 annual M&A Forums, a daylong conference, as well as the annual M&A Awards Gala to recognize and celebrate the successes within the M&A professional community.

Since 2011, involved with the HKTDC as co-mission Leader for Canada to the Asian Financial Forum in Hong Kong. Brahm quickly recognized the importance of the global trade potential for Canadian companies through HK channels and that those contacts being important for M&A Club members. Four Thousand participants attend the two-day AFF every year.

Allison Barbosa

Chief Commercial Officer, Women in Payments

https://www.womeninpayments.org/cpages/home

Allison Barbosa is Chief Commercial Officer of Women in Payments. In this role, she is responsible for business development and product strategy globally. Women in Payments is growing professional network that unites women in payments from around the globe with a shared vision of gender parity. Women in Payments supports women's career development through conferences, award and mentorship programs, and by hosting a growing online community.

Prior to joining Women in Payments, Allison held various senior sales and marketing roles in large Multi-National banks. She has extensive international experience in treasury management and payments spanning across Asia, Africa, Europe, Latin America, Middle East and the US and Canada.


She holds a BA in History from the University of Delaware and a MBA and MA in International Business from the University of Miami.

Eric Cardinal

Partner – Investment Banking, Oaklins E. Canada

https://www.oaklins.com/ca/en/

Eric is a partner at Oaklins E. Canada. He has 25 years of experience in mergers and acquisitions, private equity, venture capital, restructuring, capital raising, risk management, debt, equity, subordinate mezzanine financing, SME financing, and strategic and corporate development. He has advised on deals in manufacturing, retail commerce, distribution, aerospace and defense, personnel placement, technology, SaaS, corporate advisory, finance as well as REITs and land development funds. His experience in finance has provided him with a vast network of contacts in Québec, the rest of Canada and Asia. Having completed his trading licenses in international risk mitigation using derivative products, he brings a wealth of knowledge to overseas transactions.

Before joining the team at Oaklins, Eric held positions in sales management in a public company, as a senior director in the banking industry and as a managing partner of an investment bank. He currently sits on the advisory board of the M&A Club, is the co-chair of an annual event in partnership with the US Department of Commerce and he leads Canada's economic mission to Hong Kong for the Asian Financial Forum. Eric has a degree in business administration from the École des Hautes Études Commerciales.

Ozan Isinak

President, Keiretsu Forum Canada

https://keiretsuforum.ca/

Ozan Isinak is an active investors and serial entrepreneur with over 25 years of international experience within the angel investment, venture capital and private equity sectors. Based out of Silicon Valley during the first dotcom boom in the 1990's, Ozan worked closely with Fortune 1000 companies in San Francisco, Los Angeles, Seattle, New York, Toronto, Hamburg, Stockholm, London and Istanbul. Ozan later acted as General Partner in various angel investment and private equity practices.

He is currently the President of Keiretsu Forum Canada, the world's largest angel investment network operating on four continents. The global network specializes in syndication of deals and invests over $84 million USD into 200 early stage companies each year.

Ozan also holds a Partner position in Trendwell Ventures Inc., a Toronto based boutique M&A practice. He actively participates in portfolio investment decisions, venture capital GP duties and helps technology enabled companies scale through hands-on management toward exit transactions.

Ozan received his MBA in Finance from the University of San Francisco – McLaren School of Business in 1998 and holds a double major in Economics & Political Science from the University of Western Ontario (1994). He speaks English, Turkish and French.

Christopher Chen

Head of Investment Promotion, Invest Hong Kong (Canada)

https://www.hketotoronto.gov.hk/invest-hong-kong.html

Christopher is the Head of the InvestHK presence for Canada, operating from the Hong Kong Economic & Trade Office in Toronto. As Hong Kong's trade consul and commercial representative for Canada, he is responsible for all activities driving new business development and direct foreign investment. He comes from a digital financial services background with over 20 years of experience living and working in Asia (Hong Kong, Singapore, Tokyo, and Taipei) working for financial services multinationals and digital marketing consultancies. Originally from Vancouver, he is a post-graduate from the University of British Columbia, with fellowships from National Taiwan Normal University and the ISEAS-Yusof Ishok Institute in Singapore.

Adrienne Ho

Marketing Manager, Hong Kong Trade Development Council Toronto Office

https://www.hktdc.com/

Adrienne joined the Toronto office of HKTDC in 2018. HKTDC is Hong Kong's statutory body responsible for promoting international trade (imports and exports) in merchandise, services, and technologies via the Hong Kong platform. The Council works through a network of 50 offices worldwide. In Canada, the HKTDC Branch Office, based in Toronto, is established to encourage and assist Canadian companies in diversifying their business to Asia through Hong Kong. Since early 2020, to help Canadian companies to beat the COVID barrier, HKTDC Toronto Office has joined forces with like-minded multiplier partners like HKCBA, HKETO, and many others in staging Canadian virtual missions to online Hong Kong international trade fairs and conferences.
Enquiries: Adrienne Ho, Hong Kong Trade Development Council, Toronto Office, Tel: 416-366-3594 or email: adrienne.ly.ho@hktdc.org